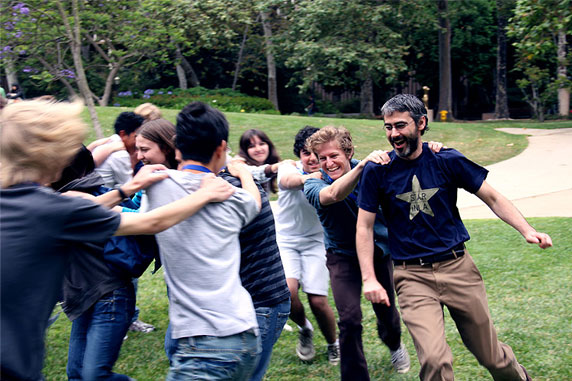 The UCLA Game Lab emphasizes conceptual risk-taking and the development of new modes of expression and form through gaming.
The UCLA Game Lab Mission ~
We are an experimental research and development lab that fosters the production of computer games and game-related research. The lab supports exploration of these areas of focus: Game Aesthetics through experimentation in the look, sound, language and tactility of games; Game Context through development of games that involve the body, new interfaces, physical space and performance in new ways; and Game Genres through examination of the socio-historic-political discourse around games and the development of new game genres that challenge the presently accepted boundaries of what games are about.
The UCLA Game Lab differs from more traditional game development contexts through an emphasis on conceptual risk-taking and development of new modes of expression and form through gaming. The lab supports projects that will establish new paradigms for gaming that emphasize the self-reliance and personal expression of the gaming artist.
The UCLA Game Lab's primary function is as a research and production space for collaborative teams to pursue focused work on gaming projects, while benefiting from the technological infrastructure and expertise provided by the lab staff and faculty. This type of incubation space creates a context of community, interdisciplinary exchange, privacy, focus and continuity that is vitally conducive toward the completion of ambitious game projects.
In addition to producing games and research the lab also functions as a center that develops public programing around critical issues in gaming. Including: public lectures, workshops, exhibitions, a visiting artist program, and an annual public festival at the Hammer Museum.
At UCLA, the Game Lab encourages the development of organic relationships across a multitude of disciplines. Game production and research brings together individuals from diverse disciplines such as visual art, design, media art, animation, music, theater, film, dance, creative writing, architecture, sociology, philosophy, psychology, history, computer science, and engineering; the possibilities for synergy between these disciplines and gaming at UCLA are tremendous.
The Game Lab is housed within the Design Media Arts department at UCLA. For more information about the DMA program, visit the website here. We are supported by the School of Arts and Architecture and the School of Theater, Film, and Television.