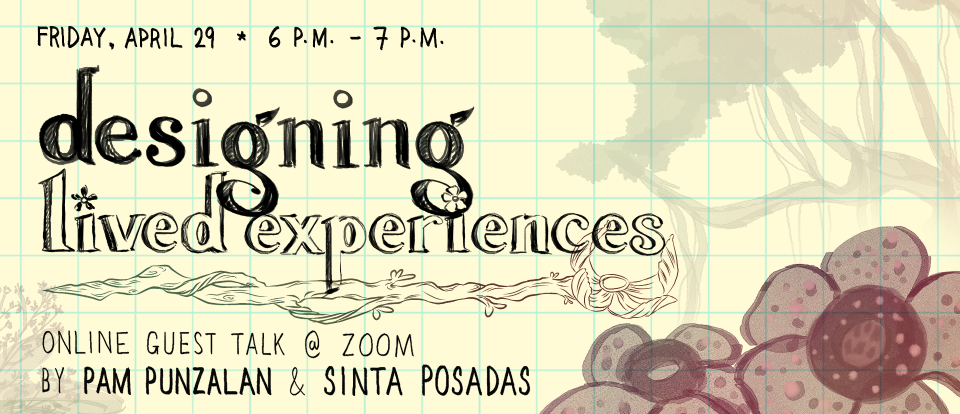 Artist Talk: Pam Punzalan & Sinta Posadas
LINKS AND DOWNLOADS
WHEN
Friday, April 29, 2022
6:00 p.m. - 7:00 p.m
LOCATION
Located at Broad Art Center at the UCLA Game Lab room 3252
---
We have invited Pam Punzalan and Sinta Posadas to talk about designing games true to lived experiences, from aesthetics to theme to mechanics.
Big concepts like "designing with intent" or "speaking from a lived experience" get discussed a lot, but it's hard to go into talking about practical ways of doing this, especially if you're a marginalized designer who's hoping to show inspirations of their culture or context in their work. This talk hopes to show how two Pinoy devs handled it for themselves, and offer ways for others to get started.
Pam Punzalan is a queer designer, editor, writer, community organizer, sensitivity reader and cultural consultant based in Manila. Her personal work likes dealing with intimacy, irony, hope, and the many different faces of violence. Her professional work includes D&D: Journeys Through the Radiant Citadel, Hunter: The Reckoning, Starfinder: Galactic Magic, Thirsty Sword Lesbians, and The Islands of Sina Una, among others.
Sinta Posadas is a game designer and layout artist from Manila. They like exploring how to visualize through layout a game's themes and stories and how to effectively design accessible game layouts. Their game design work has been entirely indie, writing for titles like Islands of Sina Una, Orbital Blues, and their own gallery of indie games. For layout work, they've been on indie projects such as GUN&SLINGER, Enoch's Wake, FLIRTSQUAD, and Time After Time.