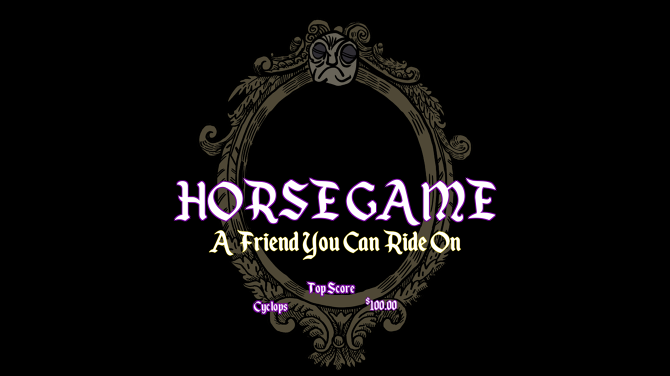 Horse Game: A Friend You Can Ride On
DATE
2017
CONTEXT
Created for exhibition at the UCLA Game Art Festival.
MEDIUM
Unity, Arcade Backpack, Human Labor
PEOPLE
Nick Crockett

: Game Designer, Performer


Adeline Ducker

: Game Designer, Illustrator

---
Horse Game: A Friend You Can Ride On is an arcade game and performance designed for the UCLA Game Lab Arcade Backpack. Aided by a magic pocket mirror, players must guide their trusty and adorable pink steed, portrayed by game designer Nick Crockett, through both in-game city streets and the real-life Hammer Museum courtyard. Players can use the joystick to examine a map of their surroundings, but must tell their driver – either by shouting or by shoving – which way to go. Turn miles into money by picking up animal-corpse-beings and shepherding them to their destinations in your taxi.
EXHIBITED:
Videogames: Design/Play/Disrupt, Victoria and Albert Museum, London, UK (2018)
UCLA Game Art Festival, Hammer Museum, Los Angeles, CA (2017)