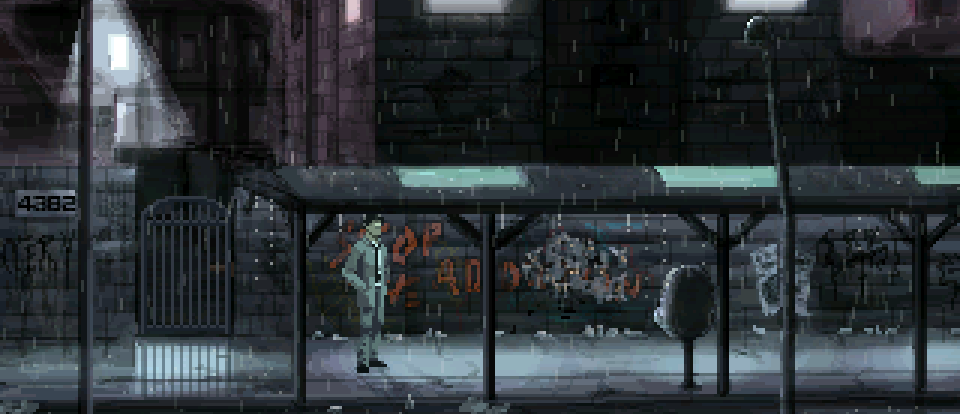 LINKS AND DOWNLOADS
CONTEXT
Independent Games Festival 2010 - Student Showcase Finalist

Featured at IndieCade 2010 @ E3

Indie Games Arcade 2010

MEDIUM
Adventure Game Studio
CREDITS
Joshua Nuernberger

: Written, Designed, and Developed


Nathan Allen Pinard

: Music & Sound

---
Azriel Odin, ex-assassin, arrives on the rain-drenched planet of Barracus to find someone. When things go horribly wrong, he can only seek help from the very criminals he used to work for.
Meanwhile, across the galaxy, a man called Delta-Six wakes up in a hospital with no memory. Without knowing where to turn or who to trust, he vows to escape before he loses his identity completely.
As fate brings these two men closer together, we discover a world where life is cheap, identities are bought and sold, and a simple quest for redemption can change the fate of a whole galaxy.
Gemini Rue is a neo-noir, full length point 'n click adventure game, encompassing a dual narrative. Gemini Rue features traditional adventure game elements, such as puzzle-solving, dialog systems, and more, but also incorporates more unorthodox features, including an action system, and an investigations system.
Gemini Rue was a winner of the Student Showcase Award in the 2010 Independent Games Festival chosen from more over 190 entries. Gemini Rue has since been published by Wadjet Eye Games, an independent publishing company for point'n click adventure games. Wadjet Eye Games has published other acclaimed titles like Nano Bots and The Shivah.