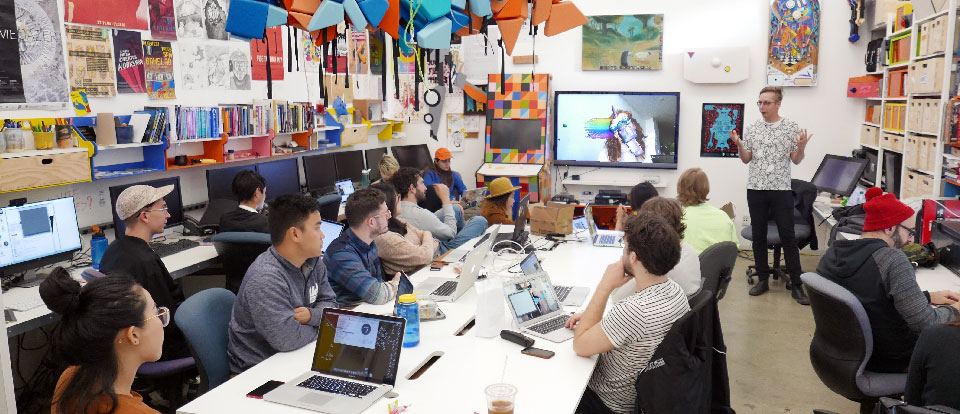 Augmented Reality Bodybuilding
with Jeremy Bailey
Posted on January 19th, 2017
by Lee Tusman
In December, UCLA GameLab was pleased to welcome Famous New Media Artist Jeremy Bailey to the lab for a workshop in constructing augmented reality projects and performance.
Jeremy is a Toronto-based artist that has been creating experimental performances online for a decade. He is known for his web-based performances on YouTube. Like many others using this medium as a platform for expression, the camera is directed at him, but his body is augmented with 3d forms that enhance, distort or skew his appearance almost like a social sculpture gone awry.
As VR and AR are increasingly cited as the latest must-use technology by large technology companies and social networks, Jeremy's approach differs from much other work in this area as his pieces are uniquely uncanny, idiosyncratic works that are highly personal and lampooning of technology. At UCLA he led a workshop titled AR Bodybuilding. Jeremy presented many of the tools he works with, including the visual programming language and environment Max by Cycling '74 with the Computer Vision for Jitter library, the Syphon library and ofxFaceTracker.
Members of the GameLab work with a variety of tools but many had not used Max before and were excited for an introduction to this visual programming language. Students experimented with these tools, creating a unicorn horn augmentation and adding other objects to modify and augment their own body. Beards seemed to confuse the camera at times but plenty of unicorn-beasts sprang into existence.