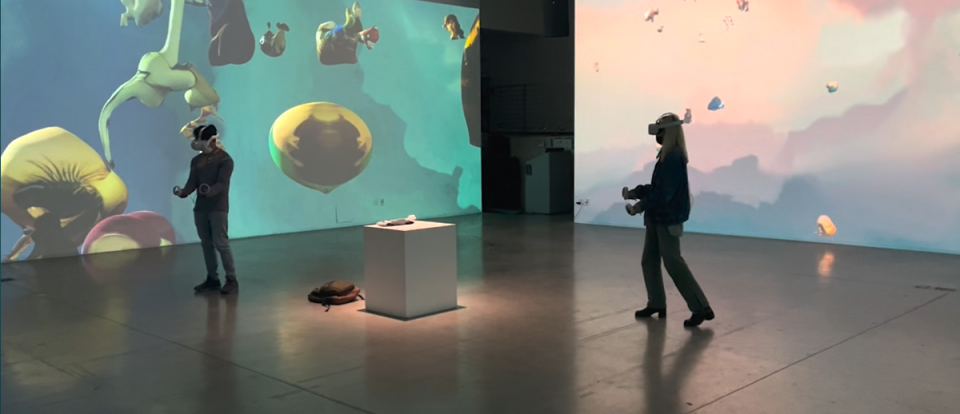 LINKS AND DOWNLOADS
DATE
2022
CONTEXT
Created as a personal project.
MEDIUM
Unity
PEOPLE
Hyun Cho

: Game design, concept, visuals, and programming

---
Space Echo is a multiplayer VR installation about how humans and artificial intelligence perceive the world and how they interact with their own kind and with each other.
In Greek mythology, Hera cursed the nymph Echo, making her only able to speak the last words spoken to her. So, when Echo met Narcissus and fell in love with him, she was unable to tell him how she felt and was forced to watch him from a distance as he fell in love with his reflection of himself in the lake.
I thought that AI and human beings were like a relationship between Echo and Narcissus. Echo desires to communicate with Narcissus. However, she can only repeat his words, and true communication is impossible. Narcissus loves only his reflection and cannot escape from it. Just like a human captured inside echo chamber. In the end, both Echo and Narcissus are trapped in the same space and constantly repeat themselves.
Humans have created AI that resembles themselves, but the world that artificial intelligence understands is different from the world we understand. AI and humans can become very close, but they cannot be the same. It is like parallel lines that cannot converge to one point forever. For example, a text generator AI may seem to write its own thoughts, but it is finding the patterns from the most repeated corpus in a given dataset (words we have said in the past) and presenting combinations of words. Even when creating an image, the AI creates the image without knowing what it is drawing.
In Space Echo, the audience enters Echo's universe and communicates with each other. The sentences they speak are converted to text through a speech-to-text system, which powers the jet packs worn by the audiences' characters. The audience can only move in the opposite direction they are looking at, and the more they talk, the further they move away from each other.
Also, the audience can hear Echo's story through speaking. I put the first sentence of the story of Echo and Narcissus into an open-source AI text generator based on GPT-2 to generate a story. After that, I created images by putting AI-written sentences into a CLIP-based text-to-image generator. Finally, the generated images were converted into audio files through a text-to-speech generator. Images containing Echo's story were placed in Echo's universe. As the audience approaches the image, he can hear the sentences used in the image whispered by Echo.