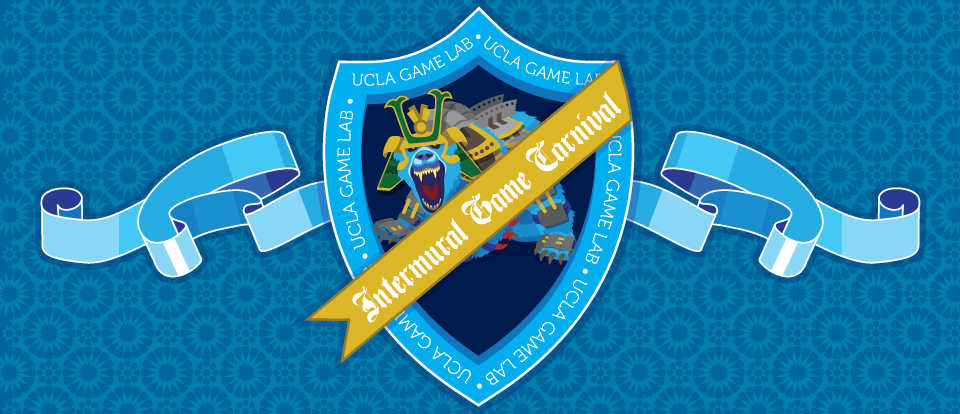 1st Annual Intramural Game Carnival
WHEN
Thursday, May 19th 2011
5:00 p.m. - 9:00 p.m.
LOCATION
Located at Broad Art Center at the UCLA Game Lab room 3252
---
UCLA Game Lab presents…
the first annual Intermural Game Carnival!
[vimeo http://vimeo.com/34981513 w=788&h=443]
Come one, come all, to the first annual Intermural Game Carnival on May 19, 2011! Presented by the UCLA Game Lab, this year's event showcases student game projects from several southern California schools – UCLA, USC, and UCI – with plans to expand in coming years. This event is a great place to meet game designers and artists from other schools and see their work!
The Carnival is FREE and open to the public and will feature:
Game demos! Game creators will demo gameplay, talk about a specific aspect of their game or process (ranging from concept to programming to art design to business concerns), followed by a quick QnA.
Playable Games! Carnival-goers can play games of all kinds – board games, video games, performance games and game installations.
Food! Enjoy free Caribbean food from Kassava, and coffee and pastries to close the night.
Please come join us for a night of fun, food, games, and art.
UCLA Game Lab presents the first annual Intermural Game Carnival
May 19, 2011 at 5pm
Experimental Digital Arts space (EDA), on the first floor of the Broad Arts Center (UCLA North Campus).
Click here for directions
…and watch the UCLA Game Lab reel here!
EVENT SCHEDULE:
5:00 – Session 1
Eddo Stern: Introduction
Sam Farmer, Asher Vollmer (USC): Semi-Automatic
Peter Lu (UCLA): assorted games
Garnet Hertz (UCI): Outrun
6:15 – Intermission
Outrun demo
Arcade machine: Snaketrix (Peter Lu, Joshua Nuernberger, Anton Bobkob, Alex Rickett)
6:30 – Session 2
Steven Amrhein, Adeline Ducker (UCLA): Monkey Soup
Mark Essen (UCLA): assorted games
David Resnick (UCI): Undulating Flux
7:15 – Intermission
Undulating Flux play (with vibrationist Pamela Samuelson)
Arcade machine: Thrill of Combat (Mark Essen)
7:30 – Session 3
Diane Tucker (USC): Mother Nature
Peter Brinson (USC): assorted games
Joshua Nuernberger (UCLA): Gemini Rue
David Mershon (USC): Banker's Dozen
8:30 – Intermission
Bangman S&M Euro Rave demo
Arcade machine: Knights of Cydonia (Steven Amrhein, Zev Solomon)
8:45 – Session 4
Dawson Dill (UCLA): Septagram
Pete Hawkes (UCLA): Binary Games
Ian Hattwick (UCI): Physical Computing Ensemble
Closing
Coffee, pastries, games, etc.
Board Games
Adeline Ducker – Steampunk Hangman
Ben Mandeburg – Binary Hangman
Eric Parren – Bangman S&M Euro Rave
Hayley Greenhalgh – Americana
David Elliott – Corporate Ladder
Bryan Wuest – Scatter
FEATURED GAMES

---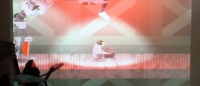 Monkey Soup
Monkey Soup is a 2D physics-platformer that combines traditional player gameplay with physical performance and a costume interface. The player-controlled monkey must make its way through a hostile industrial setting with the assistance of a giant robot puppet controlled by actors. The player and actors must work together to overcome environmental obstacles such as blocked passageways, icy water, traps, and locked doors, as well as fight off enemy robots who swarm the monkey.
Steven Amrhein approaches game design from a graphic design and animation background, but is intrigued by the potential for novel physical input and feedback systems for the player.
Adeline Ducker explores narrative in media through games, animation, and film. Her work is influenced by all things horror, fantastical, and even downright strange. She is currently a 4th year student at UCLA in Design | Media Arts.

---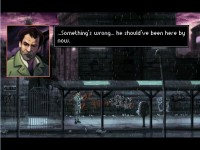 Gemini Rue
Gemini Rue (formerly known as Boryokudan Rue) is an intense adventure set in a bleak future dominated by the corrupt Boryokudan crime syndicate. Players assume the roles of two very different characters: Azriel Odin, an ex-assassin searching for a defector from the Gemini system, and "Delta-Six," a hospital inmate whose memory has been wiped by mysterious, Big Brother types. As fate brings the two men together, players explore a world where life is cheap, identities are bought and sold, and a simple quest for redemption can change an entire galaxy's fate.
Joshua Nuernberger is a 3rd year undergrad in Design | Media Arts who is interested in illustration, narrative, film, and gaming. His work has been featured at the Independent Games Festival (Game Developers Conference), IndieCade @ E3, Indie Games Arcade (Eurogamer Expo), and in PCGamer and Game Developer Magazine.
---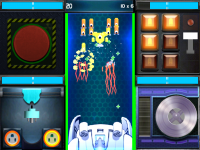 Semi-Automatic
Semi-Automatic throws you into the cockpit of a fabulously expensive war machine and trains you for the trials and tribulations of the inevitable robot uprising. Plow through the ever-growing mechanized hordes with lasers, rockets, and devastating magnets. You will need to use everything on hand to survive for as long as possible. Sometimes you will need to use them all at once. Friends may be brought in as copilots in order to ease this burden.
Asher Vollmer helping found a game company called The Odd Gentlemen and then enrolled in USC, in that order. When he's not occupied with jamming out prototypes he keeps busy by going out dancing and exploring the nooks n' crannies of Los Angeles.
Sam Farmer is a game designer and creative director with experience in creating digital and physical games. When he's not busy globetrotting or finding the best restaurants in LA, he finds himself driven to use his passion for edgy ideas, unique solutions, and creative leadership to create breakthrough games.
---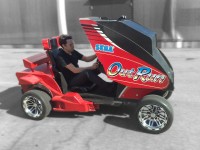 OutRun
Garnet Hertz's video game concept car Outrun combines a car-shaped arcade game cabinet with a real world electric vehicle to produce a video game system that actually drives. OutRun offers a unique mixed reality simulation as one physically drives through an 8-bit video game. The windshield of the system features custom software that transforms the real world into an 8-bit video game, enabling the user to have limitless gameplay opportunities while driving. Hertz has designed OutRun to de-simulate the driving component of a video game: where game simulations strive to be increasingly realistic (usually focused on graphics), this system pursues "real" driving through the game. Additionally, playing off the game-like experience one can have driving with an automobile navigation system, OutRun explores the consequences of using only a computer model of the world as a navigation tool for driving.
Doctor Garnet Hertz is a Fulbright Scholar and contemporary artist whose work explores themes of technological progress, creativity, innovation and interdisciplinarity. Hertz is Artist in Residence and Research Scientist in Informatics at UC Irvine and Adjunct Assistant Professor in the Media Design Program at Art Center College of Design.
---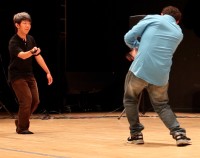 Physical Computing Ensemble
The Physical Computing Ensemble performs computer music using Wiimotes and other forms of digital musical instruments. PCE performances are highly physical and improvisatory, and highlight musical interaction between performers. The Ensemble will be performing "Just Continue to Move."
Ian Hattwick is a musician and technologist focused on art that explores both self-expression and community building. He composes and performs music based on live sampling and digital signal processing, and creates interactive artwork and digital musical instruments. He is receiving his MFA from UC Irvine's Composition, Technology, and Improvisation program and in the fall 2011 will be a PhD student at the Input Device and Musical Interaction Laboratory at McGill University.
---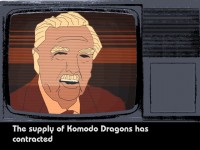 Banker's Dozen
Based on the forgotten occult writings of Paul Krugman, Nobel prize winning economist, Banker's Dozen is a game about time traveling financiers.
David Mershon has considered himself to be the Western hemisphere's premier author of amateur video games for as long as he can remember. His work draws inspiration from the essential humanist themes of obsolete science, speculative television and oeconomic humour.
---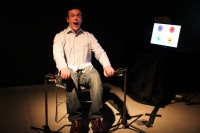 Undulating Flux
What does it mean to feel music and movement? Can haptic sensation facilitate a deeper experience for the audience and even be therapeutic? What are the potential applications of a feeling-enhancing system for the deaf and hard of hearing? Undulating Flux explores these questions by setting up a transduction chain, transforming music into movement into motor vibrations into the audience's bodies. The "vibrationist" acts as a real-time intermediary between the music and the audience, performing a vibrational-movement language to conduct the vibratory experience. Undulating Flux aims to envelop the audience in heightened layers of sensation, taking them on a journey of haptic exploration. The Nintendo Wii Remote data is streamed into Max programming environment wherein parameters are set to control each motor individually. A Max package called Maxuino is used to send the motor control data to the Arduino hardware, which is connected to the motors in the steel vibration rig.
David Resnick is a master's student in the Arts Computation Engineering program and a participant in the Social and Technological Action Research group in the school of Information and Computer Science at UC Irvine. He loves people, electronic machines, and learning about how they connect.
Pamela Samuelson (performer/vibrationist) is a native Angeleno performing artist and educator who has worked internationally with dance, theater, music and circus ensembles such as the North American Cultural Laboratory, Diablo, Superdevoiche, Tohubohu! and Ridge Theater.
---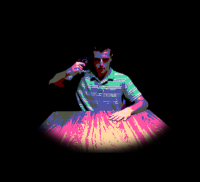 Games by Peter Lu
Peter Lu has been working at the Game Lab since the start and has since made several games ranging from serious to absurd. Cave is a platformer designed as an experimental narrative to explore darker emotions and motivations entangling the player's psyche into the uncertain egos of the two characters in the game. Roulette deepened the disturbing visual spectacle of Russian Roulette by quickly entrenching the player's empathy through it's interface. More recently, Peter has collaborated with many other members of the Game Lab to produce more amusing but original ideas to fruition. Tube Monkey is giant melange of sinful desires with some cute drapery thrown over. Snaketrix is a retro remake of a favourite classic skinned with a dark narrative. Cube 3 is spin on tic tac toe for mobile platforms. Currently, Peter is working a couple projects including a collaboration with Steven Amrhein called Animal Golf. Animal Golf is a mash-up of Golf and low poly animals in strange settings built on the Unity platform to take advantage of its physics engine to bring about strange emergent gameplay.
---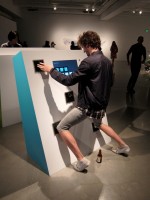 Binary Games
Binary Games by Pete Hawkes create spaces of creative competition and learning. Participants explore pattern, sequence, and sound in configurations that encourage gesture and cooperation, all while learning binary in the process.
Pete Hawkes explores natural patterns and processes in art and learning. He is currently researching the potential of media art in education. Pete received a BFA in Graphic Design from Brigham Young University and has taught interactive design at Utah Valley University and the Maryland Institute College of Art. He has over 10 years of interactive design and motion experience working with a wide range of clients including Ogilvy Interactive, KFC, Liz Claiborne, JWT, and the Sci-Fi Channel.
---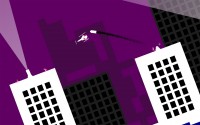 Games by Mark Essen
Mark Essen is a game designer who lives in Los Angeles and is currently a grad student in UCLA's Design and Media Arts program. His work has been exhibited at FILE in Sao Paulo, the New Museum in New York, MoCCA in Toronto, FACT, [DAM] Berlin, Vice/Intel's international Creators Project, and various other galleries, festivals, and basements.
---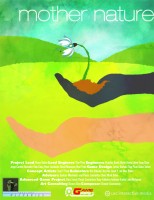 Mother Nature
Mother Nature is a gestural game that brings the fundamental components of nature into one place and uses the player's own body to make the verbs of nature – grow, hunt, eat, dodge, repel, smell – into the tools of play. Mother Nature's objects and those objects' interactions are based on the logics of the real world. This makes the player a literal mover and shaker – a god both participating in and affecting the processes of nature. Mother Nature was deliberately designed to exploit the affordances that scholarly research reveals inhere in gesture to give the player a richer play experience, by employing more and different pathways in the brain, than that provided by games that employ either traditional button or standard, more literal gestural controls.
Diane Tucker is a third year MFA student in the Interactive Media Division at USC.
---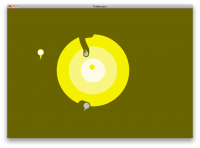 Septagram
Septagram by Dawson Dill is seven levels of classic arcade gameplay generated through synaesthesia and the number seven.
Dawson Dill is in his fourth year in Design | Media Arts at UCLA.
---