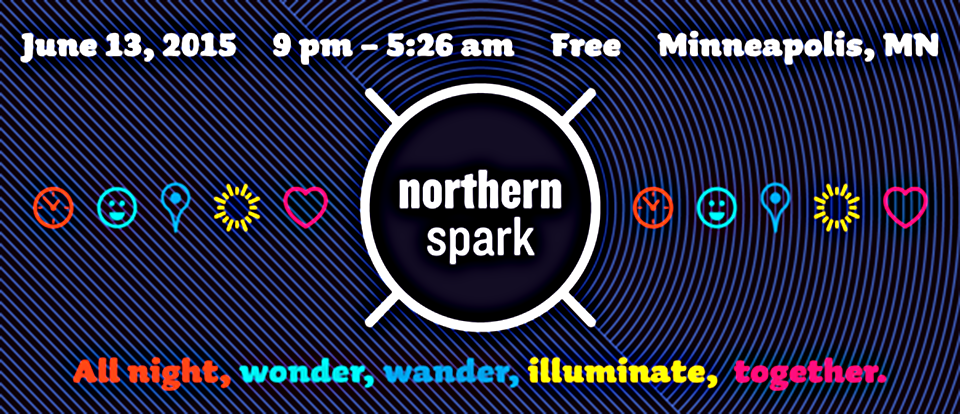 UCLA Game Lab returns to
Northern Spark art festival
Posted on June 5th, 2015
by David O' Grady
Northern Spark, an annual, all-night art festival in Minneapolis, reignites June 13 for its fifth anniversary, featuring more than 80 projects exhibited throughout the city. The UCLA Game Lab is excited to participate in the festival again this year as both partner and exhibitor, with dozens of game art projects presented for play. Please join us if you can!
Attendees will find the lab's entries grouped into two exhibitions: the UCLA Game Lab's "Game Bar" (Orchestra Hall, Target Atrium) and "Big Phoney Games" (Peavy Plaza). In addition, UCLA Game Lab director Eddo Stern will showcase the current iteration of his latest work, Vietnam Romance (Peavy Plaza). Every exhibition and game will be open all night long for sleep-deprived, gameplay fun!
UCLA Game Lab projects in exhibition:
The Game Bar offers many game varietals and Fulton Brewery libations alike. Witness and engage with games across platforms and formats—enter virtual realities, projection installations and performances; sit down for a board game; or pick up a deck of cards designed to question racial bias. The arcade offerings feature faculty, award-winning alums, and up-and-coming students. Test the limits of how games can be everything from a spectator sport to a full-body virtual experience. Game Bar features the following games:
Classroom Aquatic (Eric Cappello, Adeline Ducker, Mickey Goese, Remy Karns, Heather Penn, Mike Saltveit)—Test your slyness and don a virtual reality headset to successfully cheat as a student in a school of dolphins.
Nidhogg (Mark Essen)—Ultimate two-player showdown of fast-paced fencing and melee attacks.
Exit Palette (Stephen Ou and Stefan Wojciechowski)—A puzzle-platform game based on ryb subtractive color theory. Explore, mix, and go for the exit!
Poliphony (Heather Penn, Joshua Nuernberger, Trevor Wilson)—After landing on a strange but peaceful planet you learn that your are equipped with the tools to talk to the creatures residing there.
Toward the Sun (Philip Scott)—Explore Neo-Miami in a dystopian future where predictive data has replaced currency.
Apoptosis (Kristyn Solie)—Explore the easily blurred lines of reality and delusion prompted by a psychotic break.
CyberCruiser 2.0 created by kyttenjanae (Kristyn Solie)—Part space-explorer, part virtual roller coaster. Submerse yourself in the mysterious narrative surrounding this retro-future universe.
Space 'Invader' (Kristen Sadakane)—A pointed colonial narrative parodies the classical space invaders game.
Whisk'ry Business (Alex Rickett and John Brumley)—Change the sweater patterns of three hapless humans to match the cats that they occasionally pet.
Cryptoid Blues (Adeline Ducker and Steven Amrhein)—Your typical 8 foot 7 elusive male yeti.
Black Friday (Nick Crockett)—Battle for gifts and yuletide glory in a gruesome christmas-shopping spectacle.
Rotato Chipz (Alex Rickett)—Pong Meets Space Invaders in the retro two-person shoot 'em up inspired by Clu Clu Land and Power Stone Wars.
House Goldenstern (Eddo Stern and Jon Haddock)—A game of pinball that deploys profile portraits to win.
Guattari Hero (John Brumley)—An experimental economic rhythm simulation of consumer experience through Amazon.com's related item feature.
Cruise Control (Eddo Stern)—Control Tom Cruise as he rides his motorcycle and sustain the longest wheelie possible.
Cosmicat Crunchies (Peter Lu, Alex Rickett, and Sean Soria)—A bullet hell eat-em-up you can play with your face.
Perfect Woman (Lea Schonfeilder and Peter Lu)—Starting at the child stage, mimic poses in front of a kinect and craft the narrative of a "perfect" woman's life.
UCLA Game Lab artists are exhibiting several games made for the HappyFunTimes platform—an open-source, browser environment that allows up to 50 people to play together via WiFi-connected mobile phones on a shared screen. Developed by Gregg Tavares, game-making veteran and UCLA Game Lab Artist in Residence, HappyFunTimes was the catalyst for the following games in exhibition:
Nuclear Family (Nick Crockett, Adeline Ducker, and Tyler Stefanich)—Spy on your enemies to learn their secrets, stockpile nukes, and make strategic use of limited defense systems to destroy your enemies while keeping your nation safe. Protecting yourself isn't enough though, as deadly fallout can spread from neighboring countries. Can anyone win an unwinnable war? For 5-12 players.
Savvy Chopper (Alex Rickett and John Brumley)—In this game of hats, fruit, and George Costanza (not a misprint), eight players will pair off and work in tandem to pilot up to four fruit-shaped helicopters. Your cargo is a series of hats of various shapes and sizes, which players must airlift and drop on various George heads as they appear across the screen. Hats off to the team that puts the most hats on George.
Capture the Flag (Philip Scott and Mattias Russo-Larsson)—A surreal spin on a videogame mainstay, this version features an exaggeratedly contoured landscape navigated by players' giant, head-shaped avatars. Butting heads—and headbutts—are par for the course.
In Inc. I Trust (Nick Crockett and Tyler Stefanich)—The trust exercises found at corporate retreats are simulated in this game, in which players can engage in trust falls, ropes-course exercises, role playing, and other recreations of upper management.
Also in exhibition is Eddo Stern's latest game art project, Vietnam Romance (with Steve Amrhein, Nick Crockett, and Jessica Hutchins). An interactive work for screen and stage, Vietnam Romance employs public video gaming for direct engagement with the sublimated consequences of America's "first televised war." Hand-painted and scanned artwork gives the game's settings and props an illustrative, cardboard-cutout style, and the soundtrack—MIDI chip-tune versions of the war era's recognizable music—critiques the distortions our collective memories and cultural artifacts of Vietnam have become.
Northern Spark is presented by Northern Lights.mn, a nonprofit arts organization with the mission to transform our sense of what's possible in public space. The UCLA Game Lab fosters the production of experimental computer games and other game forms.