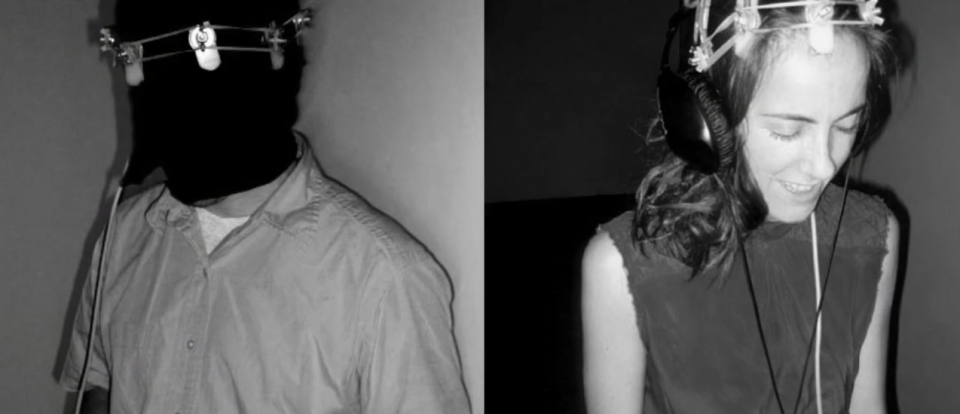 Eddo Stern showing at YoungProjects
Posted on June 7th, 2012
by David Elliot
The World is Down
Ten Works by Eddo Stern
Opening Thursday, June 14, 7-10:00 pm
@Pacific Design Center (Second Fl #B230)
8687 Melrose Ave.
Los Angeles, CA 90069
323-377-1102
youngprojectsgallery.com
At the heart of Stern's practice is a crucial engagement with today's digital culture and an astute eye for formal experimentation. His large-scale installations, sculptures, interactive works and performance pieces often explore the uneasy connections between physical existence and electronic simulation, with a special focus on the ways in which violence and fantasy operate within culture at large. Yet it is his unique approach to experimental game production, game art and machinima films in particular that has established him as a true pioneer.
Stern's work has shown at the Museo Reina Sofia, The Walker Art Center, The New Museum, The Hammer Museum, The Tate Gallery Liverpool, The Haifa Museum of Art, and many other institutions. He was born in Tel Aviv and is currently the Director of the UCLA Game Lab and an Associate Professor at UCLA's Design | Media Arts Department.
The World is Down will feature some of Stern's key works from the past five years, along with three recently completed projects.
Works in the Exhibition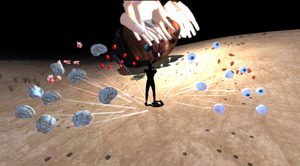 Darkgame 3.0 (2012) is a fully interactive 3D rendered video game installation, with customized controllers, headset and software. The gameplay is based upon the experience of communication and conflict under stress of sensory deprivation and sense isolation. During the game the player is equipped with a custom-made haptic head gear that applies different sensations to the viewer's head during play. Thus, as the player navigates through a 3D world of physical sensations, his or her senses are slowly taken away until the headgear provides the only connection between the game and other players over the internet. (note v 3.0 is a single player version only)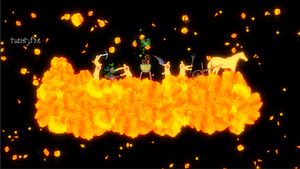 Goldstation (2012) is an interactive video game installation where the player controls five passengers afloat on a gold asteroid as they try to collect more of the precious metal. Goldstation's keywords: bluework, whitework, Goldenwork; sweat & gold, dust & space; pickaxe, cauldron, bellows & ingots; survival of the fittest & progress to the right.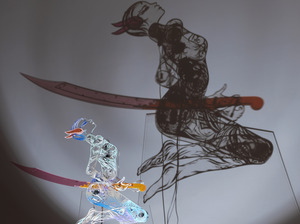 MELF; Tsunami (Baghdad Love Shack); Man, Woman, Dragon (World of Warcraft reduction); and One with the Lotus (with Steven Seagal) (2007-09) are kinetic sculptures based on traditional notions of shadow puppetry, where light sources project moving imagery onto walls. Yet each work pulls its references from a variety of sources, from pop culture to international news.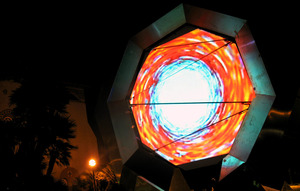 Fake Portal (2012) This sculpture features a collage of found imagery showing tunnels, wormholes, voids, and flythroughs – the iconic abstractions of science fiction and computer culture's spatial aesthetics; A clichéd metaphor for timeless and endless transcendence.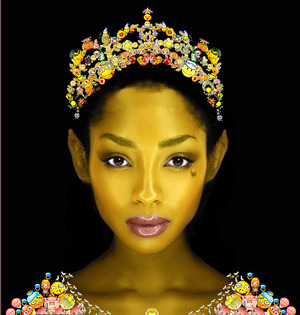 Emoticon (2007) A single channel projection featuring the visage of a female subject made of emoticons. "No one knows what its like Behind Blue eyes"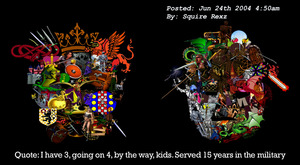 Best Flamewar Ever (Squire Rexz vs. The King of Bards) (2007) A 3D computer animation diptych presented as an installation. This piece recreats an online flame war dealing with the degrees of expertise needed to play the computer fantasy game Everquest. The specific points of contention may appear recondite at first glance, but gradually the unfolding narrative acquires an unexpected pathos and reveals a glimpse into the shifting codes of masculinity.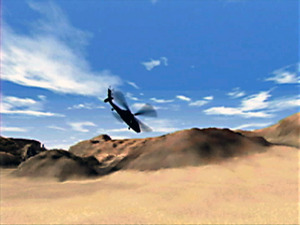 Vietnam Romance (2003) A "Machinima" film displayed in site specific installation made for the gallery. This piece was compiled out of sources available exclusively from computer desktop environments. A remix of the Vietnam War experience with a MIDI soundtrack and computer game clips, Vietnam Romance is a tour of nostalgia for romantics and deathmatch veterans. …Feel the Nam, the elephant grass, the red clay, the Cong, the rain, Feel the Nam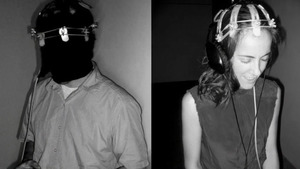 Darkgame Sensor Prototypes (2008 – 2010) A collection of Darkgame haptic sensor prototypes designed for feeling the 3D game environment, which also act as sculptures.
PARKING
$10 when using the Pacific Design Center's Parking Structure (enter off Melrose)
Or try some of the city lots:
Across the street: West Hollywood Library (enter from Robertson only) 625 N. San Vicente Blvd. WeHo, 90069 $3 per hour.
Three blocks away: Le Peer Lot (Between Santa Monica/Melrose, Robertson and Almont) 623 N L Peer WeHo, 90069 $3 per hour
Five blocks: The Beverly Center at San Vicente/Beverly and La Cienega Blvds. $1 for four hours.