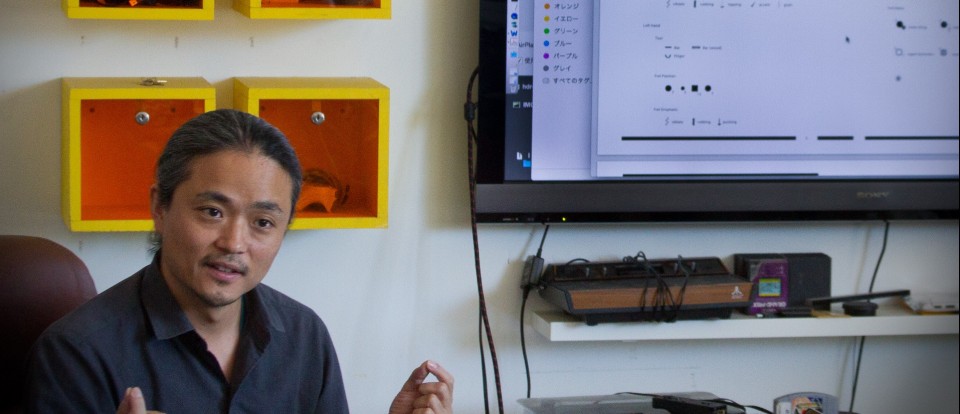 LINKS AND DOWNLOADS
WHEN
Tuesday, October 28, 2014
1:00 p.m. - 2:00 p.m.
LOCATION
Located at Broad Art Center at the UCLA Game Lab room 3252
---
UCLA Game Lab co-sponsored Tetsu Kondo's talk with UCLA Software Studio. Tetsu Kondo is media designer, artist, musician, programmer and educator. His works range from drawing, software development, and installation to creating original musical instruments both acoustic and digital. He received an MFA from NYU, Interactive Telecommunications Program (ITP). He performs and presents his work internationally in various new media and music venues such as Musicacoustica 2005 at The China Electronic Music Center Beijing, FILE 2009, Hipersonica in Sao Paulo, Brazil, Eyebeam in NYC, Museo Universitario de Arte Contemporáneo (MUAC), CENART Centro Multimedia Center in Mexico City, and Inter Communication Center (ICC) in Tokyo. He is a professor at Tokyo Polytechnic (Kougei) University in Tokyo, where he teaches art, design and programming. And also teaches part time at Nagoya University of Arts and Nagoya National University. He has worked collaboratively with musicians and artists such as BUN (Fumitake Tamura), Takamasa Aoki, Jeff Feddersen, Amit Pitaru and others.