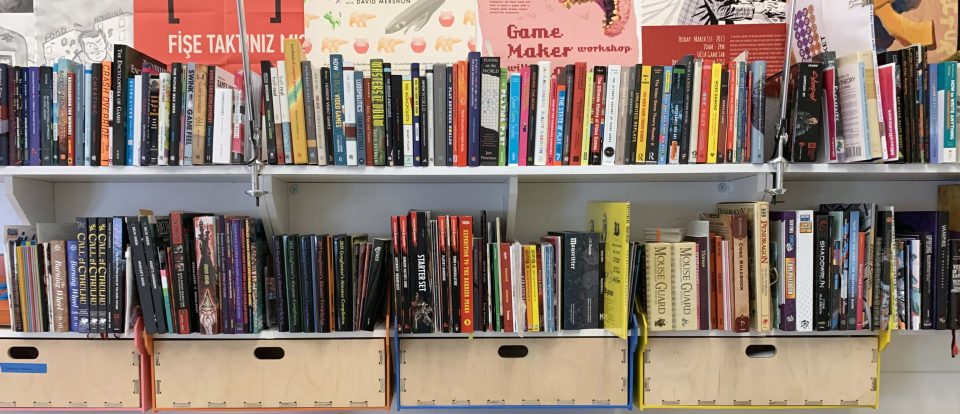 Roleplaying Games Library Acquisition 2021-2022
Posted on January 17th, 2023
In the 2021-2022 academic year, the Game Lab set out to expand its Library collection of Tabletop Roleplaying Games (RPGs). We acquired 88 RPGs, including game systems, standalone games, zine compilations, and modules or adventure books. Additionally, we acquired 11 Cyberpunk roleplaying games after interest from the Cyberpunk and Discontents seminar; 9 solo roleplaying games, to get an idea of this RPG form we were less familiar with; and 1 indie tabletop strategy game, Deepest Valley, colored-pencil illustrated by its designer and writer Caspar Dudarec.
Our goal in collecting these games was not to collect the largest, most famous, or historically important RPGs, instead we hoped to collect games that we felt exemplified the Lab's goals of fostering aesthetic, formal, and political experimentation in games and would introduce students to the breadth of possibilities and potentialities in tabletop RPGs as a medium today.
We focused on acquiring games made by individual game makers—where all writing, designing, and illustrating is all done by a single person. These games include Beyond the Borderlands by Alex Damaceno; Arc by Momatoes, Witchburner by Luka Rejec; and Haunted Almanac, a collection of many games and adventures by the prolific individual game maker Nate Treme (Highland Paranormal Society).
Similarly, we also focused on games that were the product of close collaboration between a single writer and artist, where the artist's aesthetic can come to the forefront and color the game and its world. These games include, Zedeck Siew and Munkao's A Thousand Thousand Islands, Camila Greer and Evlyn Moreau's Where the Wheat Grows Tall, Pelle Nilsson and Johan Nohr's Mörk Borg, Luke Gearing and David Hoskins Troika zine Black Knights, Patrick Stuart's Silent Titans illustrated by Dirk Detweiler Leichty, Emily Weiss's Mothership module Picket Line Tango illustrated by Roque Romero, and Sean Richer's Troika module The Tragedy that Begot Ternwillow illustrated by Chin Fong.
All of the rpgs we collected for the library are printed books. Some serve as interesting examples of printing techniques and production, for example, Pontus Björlin's risograph printed ALTNYC88, Games Omnivorous' lavish boxset for Issac Williams' Mausritter, and Games Omnivorous' Manifestus Omnivorous adventure series where they partner with a single illustrator/game maker printing the adventures in two colors. Many iterations of the lab's Game Design Workshop class focus on making physical games. It's useful to have many examples of physical game production, especially those produced by independent makers or smaller presses.
In lab classes in the past, students have made their own roleplaying games by hacking existing game systems. Though game and system design is important at the lab, we emphasize how it can be used as a medium for expression or polemical points of view. Often basing game works on existing rules system allows creators to arrive quickly at the parts of game making most integral to what they want to express. As such, we also collected some indie RPG systems that have open licenses and large communities making modules, modifications, and hacks based on them, such as: Avery Alder and Benjamin Rosenbaum's Dream Askew / Dream Apart, two games for the Dice-less Belonging Outside Belonging(BoB) system and a guide to designing with it, as well as Possum Creaks BoB based game Wanderhome. For Melsonian Art Council's plane-hopping weird-fantasy game Troika!, we acquired a wide array of first-and-third party spheres, like Watts's Werewolves of Wallstreet, Jakob Magbanua's Prime Apes, and Evey Lockhart's Very Pretty Paleozoic Pals: Permian Nations. For Tuesday Knight Games' Sci-fi Horror RPG Mothership we also acquired many adventures and supplements like Anodyne Printwares' Inferno Trilogy and Rimwise, an in-setting zine published by Anxietywizard.
We also acquired many RPG zines and collections. Some speak to specific RPG design theories, communities or subcultures, such as The Merry Mushmen's Knock!, a lavishly designed and illustrated compilation of Old School Roleplaying content and blogposts; Jared Sinclair's obtuse, surreal, and insightful musings against game design and around play in Anti-Sisyphus; or Habitition of the Stone Giant Lord, a compilation of found dungeons made by teenagers in the early years of Dungeons & Dragons and edited by Tim Hutchings. Others compile the work of many creators, like Micah Anderson's Penicillin zine, Chris Bisette's d36, or the FKR (Free Kriegspiel) Collective's rules-less community made zine In Play.
Many of these rpgs serve as strong examples of aesthetic experimentation in tabletop RPGs, see for example, Sean Richer's angsty yellow and black scrawl in the suburban malaise inspired troika sphere Crapland, Munkao's realist and research based line art renderings of southeast asia-inspired fantasy folk at rest in A Thousand Thousand Islands, Scrap Princess's frenzied mixed media monsters in Fire on the Velvet Horizon, Madeleine Ember's black and orange ancient greek earthenware inspired illustrations for So You've Been Thrown Down a Well, or Tim Hutchings' found photography scrapbook collage in Thousand Year Old Vampire. 
Others incorporate different media or activities into tabletop games and expand what parts of life can be incorporated into the game. See for example: Putrescence Regnant, a vinyl record / bog crawl adventure for Mörk Borg; Alfred Valley's post-apocalyptic solo RPG Lay on Hands that uses coin spinning to generate random results; Eli Sietz's Fruit of Law, a storytelling game of world and law creation where players are prompted by cutting up and eating a pomegranate; or John Battle's .dungeon, a fantasy game where players are paying people playing an MMO, where to learn spells as a wizard the player must mark-up their favorite book, where their animal companion must be based on their own pet, and where their own tattoos or piercings power their sorcerers spells.
Many of these games also expand what games are thought to be about, broadening the politics, experiences, and perspectives games can address. See for example, Michael Pisano and Matthew Kopel's Bunker, where the forces arrayed against the players are based on the realities of climate collapse, Aaron Lim's Homebound, an anthology of games that deal with home, leaving, and the immigrant experience, Leyline Press' Shadow of Mogg a dystopian post-brexit RPG about a society dwelling in the London Underground with voting-based game mechanics, or Joaquin Kyle Saavedra's Karanduun, a game of dismantling deific oppressors inspired by Filipino folklore and myth. 
All of these RPGs and many others not directly mentioned can be found, examined, or played in the Game Lab and lab members and students can view PDF versions of all of the collected games on the Game Lab library site. We hope that these games give a wide look at what is being made in the realm of indie RPGs and can serve as objects of study, inspiration, examination, and critique.