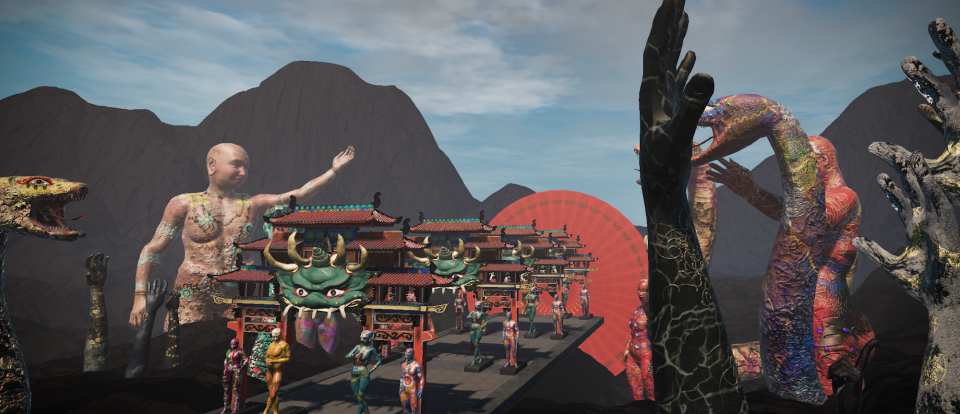 DATE
2021
CONTEXT
Independent project further developed during the Winter 2021 Worldbuilding class (DESMA 171), taught by Eddo Stern
MEDIUM
This experience requires an Oculus headset, Oculus Link to PC, a chair, and a 10 ft walking space. Created in Unity.
PEOPLE
Carrie Chen

: Game Designer

---
Myth VR is a speculative mythological experience inspired by Chinese folklore and tradition, sacred architecture, and digital bodies. The narration is a sinofuturist reimagination of traditional Peking opera and looks back at its origins as a form of shamanistic performance. The participant assumes the role of a mortal being who is invited to tour the Court of Hundred Gods. The journey begins with the participant seated in a carriage and traveling along a procession. When the carriage reaches the final destination, the participant is invited to step out and perform rituals to pay respect to the fictional deities. Each experience is slightly different, as the size, textures, and positions of the 3D models during the procession are randomly generated. All models were custom-created and textured to create a micro-universe of imaginary deities and architecture. The opera narration is a collaboration with a professionally trained Peking opera performer resulting in custom lyrics and sound. Please begin seated in a chair and follow the instructions carefully by performing the action after the audio instruction has ended.
Special thanks to Ingram Mao for interaction and programming support.