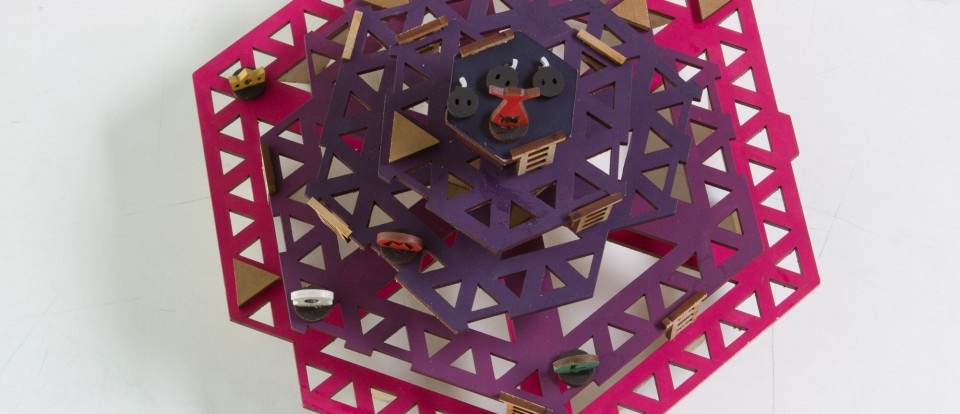 LINKS AND DOWNLOADS
DATE
2012
CONTEXT
Created in the Spring 2012 Games Design Class (DESMA 157A), taught Eddo Stern
MEDIUM
MDF, paint
PEOPLE
Angie Fu

: Game Designer

---
THE PREMISE: THE PARTY
Mario's final party ended badly for Donkey Kong. Over time his anger turned into rage, and DK could only achieve revenge by building a giant valve on top of the most frequented green pipe. Not only were people unable to travel to and from castles, but the water irrigation system was also disrupted. The only way to bring water back to the kingdom is for DK's valve tower to be destroyed. Only a party of three members can travel on the valve tower at once to safely reach the last three bob-ombs in the kingdom. If they can bring them from the top of the tower down to the three control points at the base, then DK's tower will collapse and the three party members will return safely.
THE PREMISE: DONKEY KONG TOWER BOMB
The discrimination against animals in Princess Peach's kingdom was no secret. Animals and the more ambiguous creatures were seen as wild, aggressive, and uneducated. However, Toad and other mushroom species made their place with the human class by selling shrooms and Yoshi's often made suspicious deals with Mario and Princess Peach. In Mario's annual party, DK came in last because of the steriod-like qualities the humans achieved through mushrooms. Without a chance of redeeming the animal races, DK built a tower system to prevent water from irrigating to the farmlands and to threaten the livelihood of the corrupt human race. The tower was built in such a way that it is extremely dangerous for more than three intruders to ascend the tower. DK ultimately needs this leverage to negotiate equal rights for the animal races.