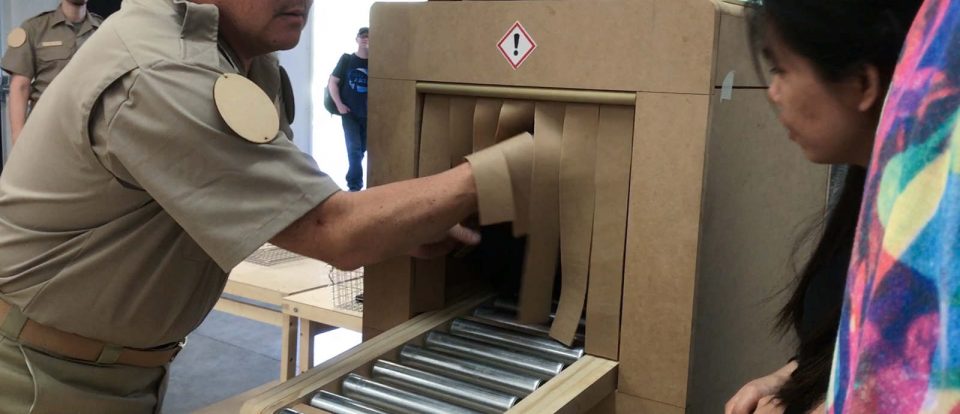 DATE
2019
CONTEXT
Created for a Design Media Arts MFA solo show.
MEDIUM
cardboard, stickers, rope, flashlights, space, people, lines
PEOPLE
Jonathan Moore

: Artist

---
An interactive and immersive kinetic installation in which viewers are shuffled through an absurd dream-like experience and performance.
Through the lens of airport security, this familiar yet bizarre art installation examines the prevalence of power, control, and authoritarianism in everyday life and digs deep into our individual dreams, memories, and desires.
In highly repressive authoritarian societies with large state surveillance apparatus, individuals often remark that their last place of freedom is within the refuge of their inner thoughts.
In our interconnected world of today, AI and data research companies such as Facebook, Google, and the now defunct Cambridge Analytics use computer vision, neural networks and deep learning algorithms to know how, what, and why we think the way we do. All for the purpose of selling us more goods, services, and political messages. With the pervasive and encompassing nature of these corporate identities quest for total data supremacy, the tools of big advertising and surveillance are not far apart.
What happens when the mind is no longer a sanctuary it once was? Where do the repressed escape in order to find moments of freedom?
What is your first memory as a child?
Exhibited March 21-26, 2017 at the Experimental Digital Arts Gallery, Los Angeles, CA.