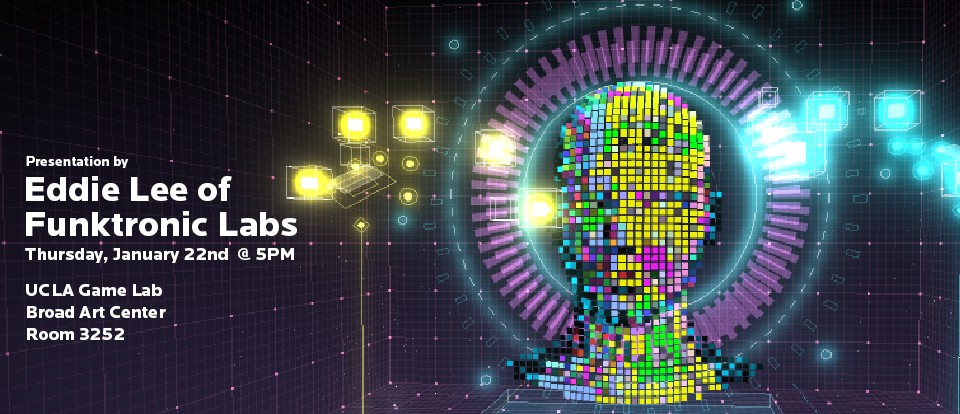 Eddie Lee Of Funktronic Labs: Artist Talk
LINKS AND DOWNLOADS
WHEN
Thursday, January 22, 2015
5:00 p.m. - 6:00 p.m.
LOCATION
Located at Broad Art Center at the UCLA Game Lab room 3252
---
Come see Eddie Lee, UCLA alumnus and cofounder of Funktronic Labs. Funktronic Labs is a independent game development studio that focuses on bringing creative experiences through games and other interactive media. Eddie is a former programmer of the Japanese game studio Q-Games, where he worked on the PixelJunk™ series as well as other internal projects. During his time there, he helped develop the IGF Nominated (2013) "PixelJunk™ 4am" as well as the upcoming "PixelJunk™ Inc". Beyond video games, Eddie is also involved with the demoscene as well as the digital arts scene. Some of his work has been shown at various art exhibitions around the world, including the Gray Area Foundation for the Arts (GATFA) in San Francisco, Gates Foundation in Seattle, and Dundee Contemporary Arts in Scotland. Recently, he was involved in an audiovisual performance at TEDxChiyoda, called "SIGMA", and was also awarded the "Best Art Award" at the Sense of Wonder Night 2013 event at Tokyo Game Show for the game "Kyoto".