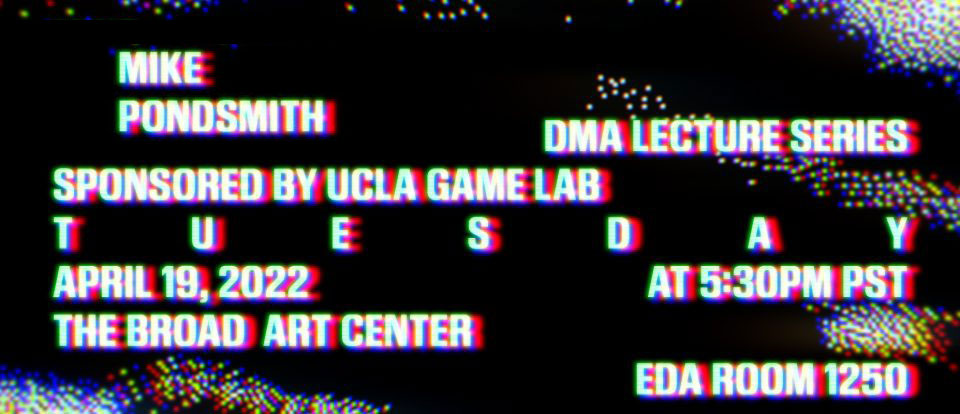 Mike Pondsmith: visiting Lecture
LINKS AND DOWNLOADS
WHEN
Tuesday, April 19, 2022
5:30 p.m. - 6:30 p.m.
LOCATION
This event will take place in the EDA at the Broad Art Center. Admission is free and open to the public. Get directions here.
---
Mike Pondsmith is a renowned tabletop and videogame designer and publisher, perhaps best known as the creator of the groundbreaking role-playing game Cyberpunk (1988). Cyberpunk (later Cyberpunk 2020) gave players the chance to become netrunners, nomads, and fixers as inspired by cyberpunk film and literature from the 1980s, but expanded on by Pondsmith and set within the tech-noirish streets of his own gameworld: Night City. "Maximum Mike" (as he's known in gaming circles) is also chairman of publishing company R. Talsorian Games, where he developed the majority of the company's roleplaying titles since its founding in 1985, including Mekton (anime meets mechanized combat), Castle Falkenstein (Victorian-esque magic and steampunk hybrid), Teenagers from Outer Space (anime game show) and The Witcher Role-Playing Game (developed with his son, Cody).
Pondsmith's Cyberpunk was also the inspiration and source material for CD Projekt RED's videogame Cyberpunk 2077–a release that has revived popular-culture interest in the cyberpunk genre. As Pondsmith noted in a recent interview in The Atlantic, cyberpunk has never been more relevant. "We've got a lot of people who feel like [the world] is out of control and they cannot affect their own destiny." Pondsmith said. "I think cyberpunk is in a lot of ways an articulation of that frustration."
Pondsmith's talk is part of the DMA 2021-22 Lecture Series, co-sponsored by the UCLA Game Lab.