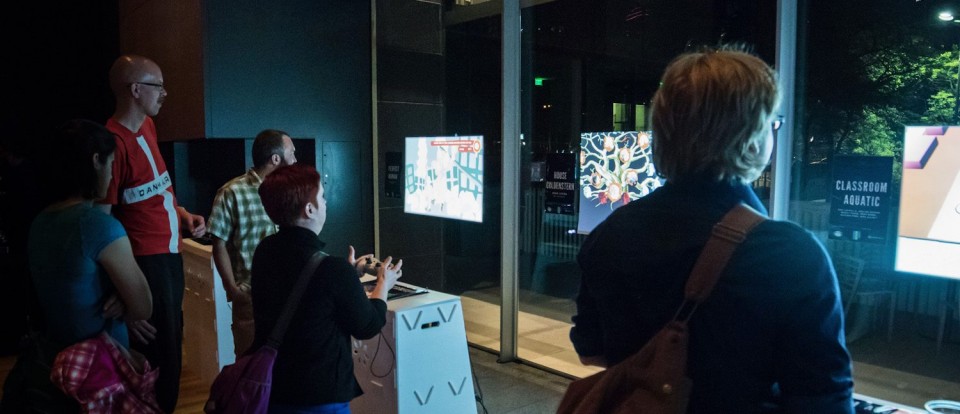 Game Bar @ Northern Spark 2015
LINKS AND DOWNLOADS
WHEN
Saturday, June 13, 2015
9:00 p.m. - 5:26 a.m.
LOCATION
Located in the Target Atrium at Orchestra Hall in Minnespolis, MN.
---
Northern Spark, an annual, all-night art festival in Minneapolis, reignites June 13 for its fifth anniversary, featuring more than 80 projects exhibited throughout the city. The UCLA Game Lab is excited to participate this year as both partner and exhibitor, with dozens of game art projects presented for play.
Attendees will find the lab's entries grouped into two exhibitions: the UCLA Game Lab's "Game Bar" (Orchestra Hall, Target Atrium) and "Big Phoney Games" (Peavy Plaza). In addition, UCLA Game Lab director Eddo Stern will showcase the current iteration of his latest work, Vietnam Romance (Peavy Plaza). Every exhibition and game will be open all night long for sleep-deprived, gameplay fun!
The Game Bar offers many game varietals and Fulton Brewery libations alike. Witness and engage with games across platforms and formats—enter virtual realities, projection installations and performances; The arcade offerings feature faculty, award-winning alums, and up-and-coming students. Test the limits of how games can be everything from a spectator sport to a full-body virtual experience.
UCLA Game Lab artists are exhibiting several games, known as Big Phoney Games, made for the HappyFunTimes platform—an open-source, browser environment that allows up to 50 people to play together via WiFi-connected mobile phones on a shared screen. Developed by Gregg Tavares, game-making veteran and UCLA Game Lab Artist in Residence.