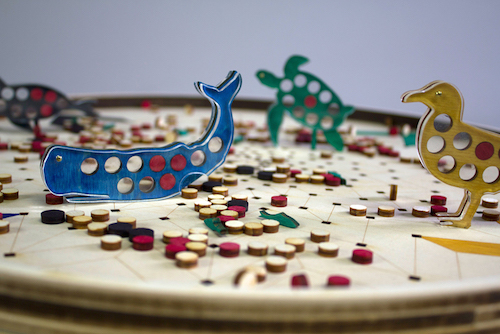 DATE
2017
CONTEXT
Created for Eddo Stern's DMA 157 Game Design class.
MEDIUM
wood, rotation mechanism, laser-cut plexi
PEOPLE
Jennifer Agosta

: Game Designer

---
Plastic Vortex is based on the Great Pacific Garbage Patch, a mass of human-made debris caught in the swirling gyres of the North Pacific Ocean. Marine animals often end up eating the plastics, which accumulate in their digestive tracts, causing death from malnutrition or obstruction. Players move their marine animals across the board, dodging plastic while looking for fish to eat. Each turn, the board is physically spun, sending fish and trash flying and shuffling the game board. When players encounter plastic, they fill a cutout in the animal's stomach with the trash; when the stomach fills the player loses the game. The first player to cross the vortex without dying wins.