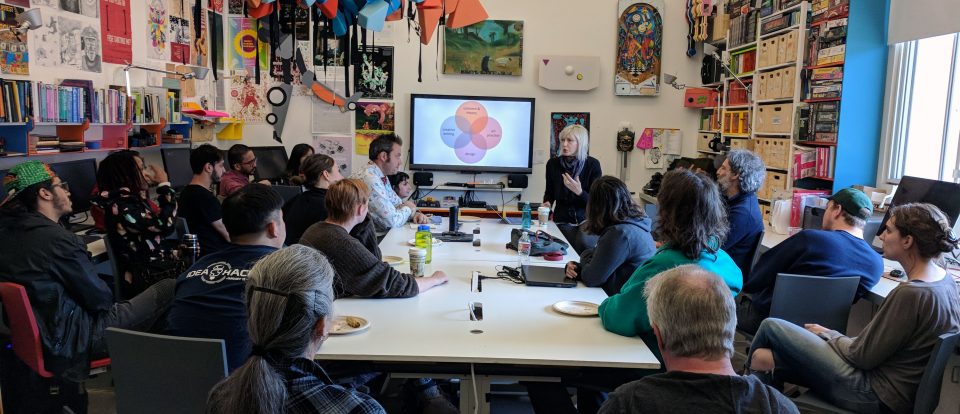 Mary Flanagan: Play at the Edges Play in the Center
LINKS AND DOWNLOADS
WHEN
Thursday, February 22, 2018
12:00 p.m. - 2:00 p.m.
LOCATION
Located at Broad Art Center at the UCLA Game Lab room 3252
---
Artist, theorist and designer Mary Flanagan visited the Game Lab to share artistic approaches in her art and design studios. Mary discussed her work and opened up a conversation about the role of contemporary media arts writing and scholarship. Mary is in LA as a Getty fellow for Spring 2018 and we are lucky to have her in town!
Flanagan is an artist, designer and writer with five scholarly books and fifty articles to her credit; her book Critical Play is standard-issue reading about games and art. Flanagan is a Professor in Digital Humanities at Dartmouth College. She founded the award winning design research laboratory Tiltfactor and the publishing company Resonym. She writes essays, poetry, fiction, and journalism for USA Today, Huffington Post, SF Chronicle, and Gamasutra. In 2016, Flanagan was awarded an honorary degree in Design from IIT and received the Vanguard award from Games for Change. She has been a fellow at MacDowell, Bogliasco, and a museum scholar at the Getty Museum. Recently she keynoted Board Game Studies, Copenhagen, Games for Change NYC, ISAGA Delft, and IGGI York.