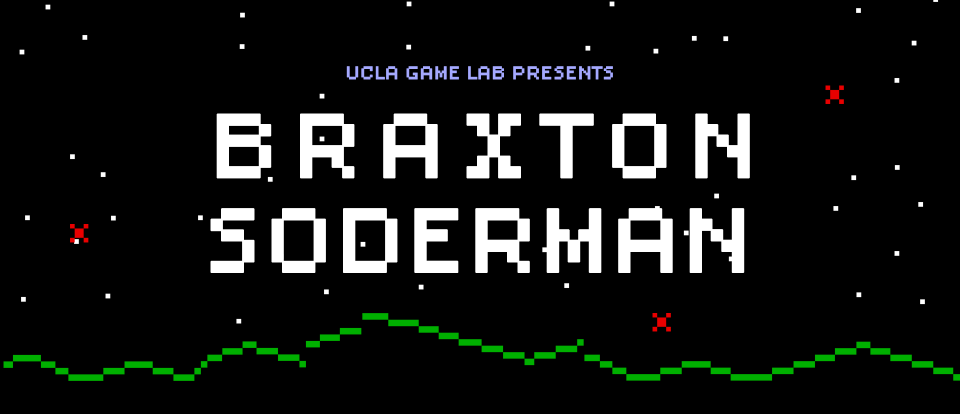 Braxton Soderman: VISITING LECTURE
LINKS AND DOWNLOADS
WHEN
Wednesday, May 10th, 2023
12 p.m. - 2p.m.
LOCATION
Located at Broad Art Center at the UCLA Game Lab room 3252
---
For his talk at the UCLA Game Lab, Braxton Soderman will first discuss some of his previous work surrounding Mihaly Csikszentmihalyi's concept of flow, as it applies to video games and beyond. Csikszentmihalyi first articulated this theory in the 1970s—which emerged from his study of play—and since then the concept has been particularly useful in the areas of both game scholarship and design. Indeed, the 1970s was also a pivotal moment in the rise of the early video game industry. In addition to discussing some of the key political and cultural impacts of flow in relation to games, this talk will examine early ways of thinking about player engagement, immersion, and flow in the 1970s, particularly through the lens of toys and an examination of Mattel Electronics' Intellivision system. Intellivision was a home video game system developed in the late 1970s by Mattel Electronics, a division of Mattel, an innovative toy company best known for Barbie and Hot Wheels. The history of toys is germane to the rise of video games generally, but for Intellivision the context of toy production at Mattel was pivotal. Through an examination of toys, Intellivision games, and what Mattel called "play value" (a toy's engaging properties) this talk will explore ideas of player immersion in relation to the early video games industry.

Braxton Soderman is an Associate Professor in the Department of Film & Media Studies at The University of California, Irvine. He is the author of Against Flow: Video Games and the Flowing Subject (MIT Press, 2021) which critically analyzes Mihaly Csikszentmihalyi's theory of flow in relation to game studies. He has published articles in differences: a Journal of Feminist Cultural Studies, The Journal of Visual Culture, Games and Culture, and elsewhere. He is currently completing a co-authored book on the Intellivision video game platform which was developed by the toy company Mattel in the late 1970s.